Schedule a call with the recruiter for your school or county below. Our Undergraduate Recruitment Specialists can discuss campus life, academics, student services, and more with prospective first-time-freshmen and transfer students interested in attending SF State. They can also help with questions regarding admissions requirements, the application process, and pre-admissions transcript evaluations. If you do not see your school, county or state listed below, please feel free to meet with any of our recruiters. We look forward to speaking with you!
If you are interested in pursuing a graduate program or a second bachelor's, please contact our Division of Graduate Studies at grad.sfsu.edu.
For current SF State students or students who have questions in regards to academics/course advising, please contact your specific department advisor or the Undergraduate Advising Center
Please do not book more than 1 timeslot so we can save space for other students.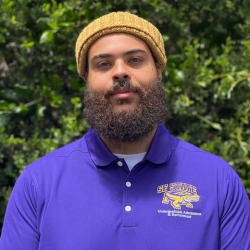 Name: Lucion Armani Fuller 
Pronouns: He/Him

Hometown: San Francisco

Territory: SE San Francisco, North Bay, Northern CA

SF Schools: Balboa High School, City College of San Francisco, Hilltop High School, Immaculate Conception Academy, June Jordan High School, KIPP San Francisco College Preparatory, Leadership High School, Philip & Sala Burton High School, Ruth Asawa San Francisco School of the Arts, San Francisco Christian High School, The Academy – San Francisco @ McAteer, Thurgood Marshall HS

Counties: Butte, Colusa, Del Norte, El Dorado, Glenn, Humboldt, Lake, Lassen, Mendocino, Modoc, Napa, Nevada, Placer, Plumas, Sacramento, Shasta, Sierra, Siskiyou, Solano, Sonoma, Sutter, Tehama, Trinity, Yolo, Yuba 
Email: lfuller2@sfsu.edu  
Name: Joseph Montoya
Pronouns: He/Him 

Hometown: Fresno, CA 

Territory: NW San Francisco, Peninsula, San Joaquin Valley, Central Sierra 

SF Schools: Academy of Thought and Industry, The Bay School of San Francisco, Convent and Stuart Hall – Schools of the Sacred Heart, Drew College Preparatory, Galileo Academy of Science and Technology, Gateway High School, George Washington High School, Jewish Community High School of the Bay, Raoul Wallenberg High School, San Francisco Pacific Academy, San Francisco University High School 

Counties: Alpine, Amador, Calaveras, Fresno, Inyo, Kings, Madera, Mariposa, Merced, Mono, San Joaquin, San Mateo, Santa Clara, Stanislaus, Tulare, Tuolumne 
Email: jdmontoya@sfsu.edu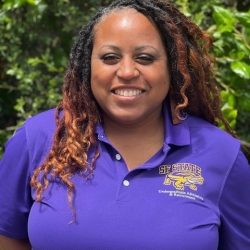 Name: Sherlynn Thurman
Pronouns: She/Her 

Hometown: San Francisco 

Territory: SW San Francisco, Southern East Bay, Inland Empire 

SF Schools: Abraham Lincoln High School, Archbishop Riordan High School, Ida B. Wells High School, Independence High School, Lick Wilmerding High School, Lowell High School, San Francisco High School for the Arts, San Francisco Waldorf School, St. Ignatius College Preparatory, Urban School of San Francisco, Woodside International School 

Counties: Alameda, Kern, Riverside, San Bernardino
Email: sherlynnt43@sfsu.edu