Our amazing student tour guides are here to share their experience as Gators with prospective students and their families. They will show you the SF State campus through their own eyes. They will share with you anecdotes, our history, what they love the most about the University and why they love being a gator. 
Himaank Dabra
My name is Himaank Dabra, and I am a San Francisco State University tour guide. I am from India, and as an international student, I have always been fascinated by the diverse culture, history, and landmarks that make San Francisco such a unique and exciting place to live and learn. I am a Sophomore studying Business Management as my major. I will pursue and start my own business after graduation, which has made me passionate about sharing my knowledge and experiences with prospective students and their families.
Hilary Cruz Mejia
My name is Hilary Cruz Mejia (she/they/ella). I was born and raised in the coastal waters of the Pacific Ocean in Guatemala. I am currently pursuing a B.A. + M.A. in the Spanish Blended Program along with a minor in LGBTQ+ Studies and Latin American Studies. I am a poeta radical that has a compromise to my roots, mi gente, mi comunidad, mis ancestras, the present, and the urgency to desenterrar la memoria colectiva (unbury the collective memory). Choosing SF State had a lot to do with its historical roots in activism and its support to the diverse communities represented in the Bay Area. My favorite thing about working in the Undergraduate Admissions and Recruitment office is the diverse community that I have been able to create and the free snacks!
Ritesh Ritesh
Hello! Call me Ritesh (aka best out of best). I am an Indian international student. I plan to work as a software engineer after I graduate, thus computer science is my major. San Francisco State offers a variety of opportunities for success in one's own positive approach. Additionally, SF State provides a unique bachelor's degree that is centered in my field of study. The campus community is always so welcoming that I never get the impression that I'm away from home. It's the finest a foreign student could hope for.
Lorena Mejia
Hello, my name is Lorena Mejia, and I am a Criminal Justice Major. I am from Sacramento, and this is my first year attending SFSU. I have spent a lot of time in San Francisco, especially at a young age, so I have gained much love and knowledge about the city. I love that SFSU is diverse and has many resources for students. I am also a first-generation student in hopes of becoming an immigration lawyer in the future! I am always looking to find new places in the city and explore! I love that being a tour guide makes me knowledgeable about all the fun facts about our campus!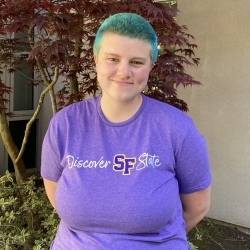 Anni Welch
Hi! My name is Anni Welch (they/them) and I'm a first year student majoring in Sociology and double minoring in Theater and Sexuality Studies. I'm from a small town in the foothills between Sacramento and Tahoe. I love rock climbing at our school's wellness center, exploring the city, and getting involved in creative and social justice communities on campus. I'm grateful to be surrounded by peers and professors who are passionate about making the world a better place. I hope you love this campus and the people here as much as I do!
Lakshyaraj Bhati
I'm Lakshyaraj Bhati; you can call me Lakshya. I'm a sophomore here at SFSU studying Computer Science. I'm an International Student from Jodhpur, India. As a Computer Science major, I want to be a software developer, and eventually, I would love to start my own company. I want to be a trillionaire. I chose SFSU because of the facilities they provide in my major, from computer labs to research projects. It is a very beautiful campus with many opportunities for everyone. The best part of working with UGAR is that I get to meet a lot of new people, primarily students who are trying to get into college, and it reminds me of the time when I was applying to colleges.
Isabella Campos
Hello!! My name is Isabella, and I am currently a 1st year majoring in Criminal Justice. I decided to attend SFSU due to its immense diversity and beautiful city. SFSU has so much to offer its students regarding academics and life on campus. I encourage everyone to get involved with as much as you can while attending SFSU; that way, you make the most out of all the hard work and time you will put in while you go here. I love being a tour guide because it gives me the opportunity to show others all the great resources and fun events our campus has to offer!
Dylan James Beck Gillespie
Hello incoming students! Coming from an insider Gator, I, Dylan Gillespie, am one of your tour guides and a genie to answer all of your questions, hopefully! I am currently a freshman studying Speech, Language, and Hearing Sciences with a double minor in Special Education and Early Childhood Development. I wish to help others understand the determination and drive it takes to become a part of the Gator family and the amazing opportunities we offer. Thanks to many of our advisors, administrators, and professors,  I will finish my degree pathway a year early and enter graduate school before turning twenty-one! Hopefully, SF State will help you along your lifelong journey into the vast world. Go Gators!